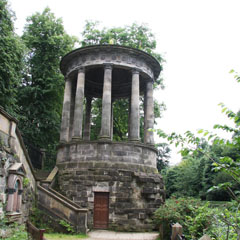 Upper Dean Terrace, Edinburgh EH3 6TS
This natural spring beside the Water of Leith was discovered in 1760 and rapidly became popular with citizens of Edinburgh suffering from a variety of medical conditions. The foul tasting, sulphurous water was claimed to be a cure for all manner of ailments from general aches and pains to blindness. The building in the form of a Ancient Greek temple that now sits over the well was designed by the painter Alexander Nasmyth (1740–1840) and built in 1789. It surrounds a statue of Hygeia, the Greek goddess of health.
Only periodically open to the public on Open Doors Day.