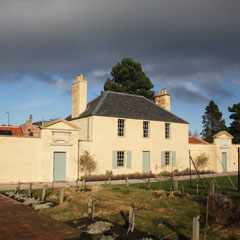 Royal Botanic Garden Edinburgh, Arboretum Place, Edinburgh EH3 5NZ
This cottage, which had been lovingly rebuilt in the current Royal Botanic Garden in Inverleith, stood for 60 years at the old site of the Botanic Gardens near Leith Walk. The Gardens had moved to this location from its previous site near the modern Waverley Station in 1763. This cottage was not only the home of the head gardener, but also contained a classroom upstairs for teaching botany. It was here that John Hope, the University of Edinburgh's professor of botany and materia medica taught generations of medical students from 1766 until his death in 1784.
Entrance to the Botanic Cottage is free, except when it is being used for an event.
Find out more