11 Lothian Street, Edinburgh EH1 1HE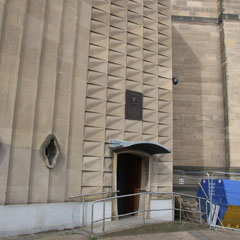 It was here that Charles Darwin lodged in the house of Mrs Mackay when a medical student in Edinburgh in 1825-27. He was not an enthusiastic student and left without finishing his degree. In Edinburgh he met Robert Edmond Grant, a lecturer in John Barclay's anatomy school and an enthusiastic advocate of evolution. On one of their regular zoological collecting trips together Grant apparently 'burst forth in admiration' of  Jean-Baptiste Lamarck's evolutionary theories. Darwin later claimed, perhaps disingenuously, that he had listened to Grant 'as far as I can judge, without any effect on my mind'.
No public access. The original building no longer survives.
Find out more