South Bridge, Edinburgh EH8 9YL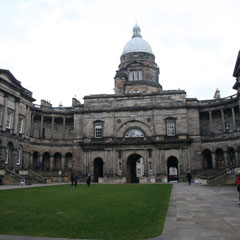 The University of Edinburgh was first established on this site in 1582. Unusually, it was founded by the town council of Edinburgh and most of its professorial chairs remained in the gift of the  council until the reforms brought in by the Universities (Scotland) Act in 1858. Work on the building we see now was started in 1789 and it was more or less completed by 1827. The original design was by Robert Adam. Adam died in 1792 and the building was completed by William Henry Playfair. The dome was only added in 1887.
With the exception of the Talbot Rice Gallery, the interiors of the University buildings are not open to the public.