General Register House, 2 Princes Street, Edinburgh EH1 3YY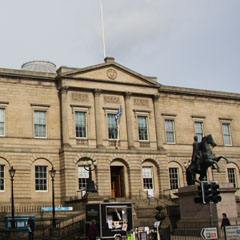 James Tytler, who made the first successful balloon ascent in Britain in Edinburgh, exhibited and tested his 'Grand Edinburgh Fire Balloon'  in the uncompleted dome of Robert Adam's Register House in 1784 before making a successful public ascent at Comely Garden on 6 August.  Tytler was a multi-talented individual who had made a living at various times as a surgeon, writer, publisher, composer and poet before his foray into aeronautics. He had to flee to Ireland in 1792 after being arrested for producing subversive pamphlets, before emigrating to America a few years later.
The General Register House houses the National Records of Scotland and is open to the public.
Find out more