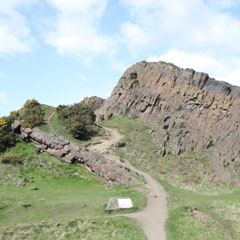 Radical Road, Edinburgh EH8 8AL
At this site James Hutton found proof for his theory that heat plays an essential role in rock formation.  He believed that a band of molten rock had been injected into older strata long after the formation of the surrounding rock. During Charles Darwin's time as a medical student in Edinburgh in 1825-7 he accompanied the professor of natural history, Robert Jameson, on a field trips to Salisbury Crags. Darwin later recalled being deeply unimpressed by Jameson's explanation that these intrusive rocks had been deposited from above by precipitation from the sea rather than injected as magma from below.
A plaque at the site give some interesting information on its history and significance.
Find out more