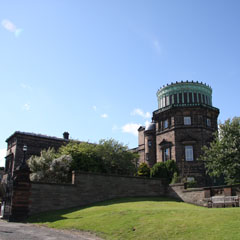 Blackford Hill View, Edinburgh EH9 3HJ
A new observatory for Edinburgh was opened in 1896 on top of one of the Braid Hills. It was made possible by the largesse of James Ludovic Lindsay, 26th Earl of Crawford and 9th Earl of Balcarres, a keen and extremely wealthy amateur astronomer, who left his instruments and library to the Scottish nation. The situation of the observatory gives it spectacular vistas over the city, Salisbury Crags and Arthur's Seat. The observatory is still in use and is home to the University of Edinburgh Institute of Astronomy, an establishment of a UK Research Council and a Visitor Centre.
It is possible to visit the observatory, but only by prior arrangement. You can find out how to book from the link the the observatory's website below.
Find out more